Choose from the list of angles below
Spot Drills can be modified In 2 - 3 working days
Modifications Include:
- Adding Coolant Thru
- Reduce Shank Diameters
Spot Drill Insert Loading Instructions
- Air Blast Pocket Clean

- Hold Insert in place (Chisel points to front & rear)

- Flatted corners are to prevent loading insert backwards

- Tighten clamps until each one makes light contact

- Alternate tightening screws several times until screws are tight
- Spot Drills are designed for drilling / plunging applications.
- The cutting pressure should be on the front of the insert.
- Spot Drills are Not intended for side milling
- For best performance always hold tool in a collet.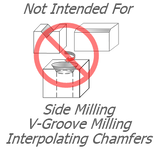 Spot drills should not be used for V-Groove Milling, Chamfer Milling
or to interpolate chamfers on existing holes.
Call K-Tool, Inc. Tech support if you have questions
about your specific application
800-377-3056