Insert Screw Technical Data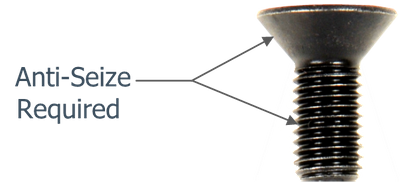 Apply Anti-Seize to the screw threads and the bottom of the screw head as shown
Insert

Screw
Torx

Recommended

Max Screw Torque

screw #
Thread

Wrench
Screw Torque
Screw Torque

164T
1 - 64
T-6
2.7 - 3.3

In. Lb.
5.5
In. Lb.
300T
3 - 48
T-8
5.7 - 6.8

In. Lb.
11.3
In. Lb.
314T
3 - 48
T-8
5.7 - 6.8
In. Lb.
11.3
In. Lb.
414T
4 - 40
T-10
10 - 11.9
In. Lb.
19.9
In. Lb.
438T
4 - 40
T-10
10 - 11.9
In. Lb.
19.9
In. Lb.
538T
5 - 40
T-10
10 - 11.9
In. Lb.
19.9
In. Lb.
560T
5 - 40
T-10
10 - 11.9
In. Lb.
19.9
In. Lb.
5625T
5 - 40
T-10
10 - 11.9
In. Lb.
19.9
In. Lb.
614T
6 - 38
T-15
15.3 - 18.3
In. Lb.
30.5
In. Lb.
638T
6 - 38
T-15
15.3 - 18.3
In. Lb.
30.5
In. Lb.
838T
6 - 38
T-20
22.8 - 27.4
In. Lb.
45.6
In. Lb.
1012T
10 - 32
T-25
33.6 - 40.4
In. Lb.
67.3
In. Lb.
1412T
1/4 - 28
5/32 Allen
77.4 - 92.9
In. Lb.
154.9
In. Lb.
<![if supportMisalignedColumns]> <![endif]>
 Additional Insert screw information 
Insert Screws are often overlooked when the overall tool performance drops off
Worn or damaged screws can cause the inserts
not to seat correctly in the pocket correctly.
This condition can quickly cause vibration, poor finish, constant size fluctuation and tool failure.
Use Proper Screw Torque an follow the instructions below
to achieve maximum insert life and the best possible
performance from your K-Tool, Inc. products
- Verify you have the correct insert for your tool, The top of the insert cutting edge should never be below the top of the pocket.
- Always use screws that are in good condition, replace your insert screws as needed. Worn or damaged screws will lead to early insert failure.
-Tighter is not always better, Never exceed the maximum screw torque.
-Apply a small amount of anti-seize to the screw threads and to the head of the screw where it contacts the insert.
Use the tool number stamped on the tool to identify your exact tool and the correct insert and screw information.
Not sure what exactly what tool, insert or insert screw you have? Simply give us a call or send us a few pictures and we will help identify your product.